1.Tape Music-social measurement through sound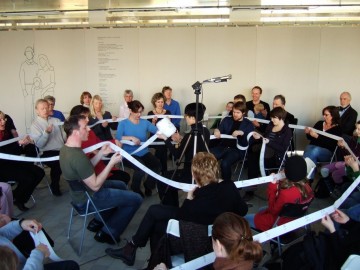 What is "TAPE MUSIC"?
Without any previously given instruction,A long "Tape" with written phonetic caracters is transmitted through the audiences,who are forced to react to the long tape on their instinct,if most of the audience starts to read it (as it is in most of the cases),then an ever evolving mass of harmonic sound is formed in several minuites,it's unique rhythm,speed and tonal expression are synthesized both by personal interpretation and collective interactions.
Inspired by futurists' soirées, J.J.Lebel's Polyphonix, as well as recent approachs on real-time digital signal processing, Human interactivities are considered to be a kind of imformation processing , So the audience body could be used as electronic components and so to creat "electronic" music with fully humanic qualities without the need of exterior power supply.
What is "Social Measurement Through Sound"?

The first performance of Tape Music is not at all for "Social Measurements",but a kind of provocation, when I was invited by Taipei Sonar,Technology+art festival (2004) as a guest artist and being anticipated to play laptop music on stage.
Never convinced by the ethic of live laptop music, I find my name on the program list between 2 laptop sound pioneers;Carl Stone and Francisco Lopez. It seems no clever idea to play my small laptop tricks there.Here comes the idea of "Tape Music" and "Digital Music" (later called "Meta-Cyber Music'),to play electronic music without electronic,replace the electronic components with human interactivities.and the result is almost a riot, the audience find very soon there will be no performance except for what they do for themselves, they soon react and took the place of artist with enthusiasm, There are audiences standing, shouting, running in the hall, together with the loud Sheeee from the audiences anticipating for a serious concert and nervous eyes from conservatory professors.
The early "Tape Music" sessions(which was called "sound intestines") are more or less chaotic, and I have to make up-dated version for each performance in order to improve the harmonics,eventually there was no fixed version until year 2006. Finally performances were too frequent for me to update each time, and all the past experiments had led to a more structured style (of harmonics), when the "Tape" is repeatedly played in different context, the "measurements" come naturally without difficulties:and It mutated and transformed, to be something totally different from the very first "concert". Since early 2007,"The Measurements" turn to be a fixed process, together with some basic rules including:
1.Artist will not organize any session by himself, he's always invited by an organiser.
2.Installation of seats in spinal (in clockwise order).
3.An Assistant will help the audience to find the seat.
4.A 10-second pause after all the audiences have their seats.
5.The artist will distribute the tape in the middle of the spinal without
giving any previous instruction.
6.The whole process will be recorded on a DV camera in a fixed angle.
7.Arist will write a note after each session with following details:
a. Time
b. space name/space description.
c. Curators/Programmers
d. Context (Such as festival, educational project, etc.)
e. Sponsorships
f. Audience (composition)
g. Audience feedbacks
h. Other personal observations
Based on the fixed process," Tape Music" thus function as a specific socialogical research tool which demonstrate local modes of interactions, where collective social/esthetical consciousness become visible and further audiable.when Tape Music is tested in different communities; Space, time, the specific gathering of people,each elements resonate with all it's own acoustic and psychological quality, demonstrates their proper existence through a distinctive way of sound making.
TAPE LIST (2004-2016)
1 Version plastic bag, numbered musical notation/classic-Chinese,100m, 2004
2 Version price tag roll, classic-Chinese, 100m, 2005
3 Version black ribbon embroidered with golden characters,classic Chinese, 50m, 2006
4 Version fax, French, 120m, 2006
5 Version soutien-rideau, classic Chinese, 100m, 2007
see original notation(pdf)
6 Version soutien-rideau-swedish , Swedish, 100m, 2007
7 Version black ribbon embroidered with golden characters,simplified Chinese, 120m, 2008
8 Version graphic ,for children ,25m ,2008
9. Version black ribbon embroidered with golden characters,traditional Chinese, 140m, 2010
10 Version Musarc (for professional singers) ,english,204m ,2016
Special version
a. soutien-rideau, picture version, 25m, 2008
Documentaries
Complete Measurement List since 2004 (with photos)
Journal -HK-frindge-theatre.pdf(2007)
Journal-konsthallC.pdf(2007)
Journal-Cite-des-Arts.pdf(2007)
The Notation of Version-7 Simplified Chinese, 120m(2008)
Video Clips
Click here "5 cities (Taipei,HK,Stockholm,Paris,Peking)"
Click here "Stockholm,Konsthal C"
Click here "Paris,Cité des arts"
Click here "Sydney,Bill & George"
Click here "Canberra,ANU "
Click here "Installation for Shenzhen architecture biennale 2009"